Keynotes
Visual Analytics for Enabling Extreme Scale Scientific Discovery
Speaker:
Han-Wei Shen, The Ohio State University
Abstract:
The growing power of supercomputers has substantially enhanced our capability to simulate complex problems at greater fidelity, leading to high-impact scientific and engineering breakthroughs. Over the years, visualization has become instrumental for analyzing data generated from numerical simulations in many science disciplines. To fully understand such vast amounts of data, scientists need scalable solutions that can perform detailed data analysis at different levels of detail. In this talk, I will discuss several techniques that address two difficulties faced by computational scientists: The first is deciding what data are the most essential for analysis, given that only a small fraction can be retained; the second is transforming the data into visual representations that rapidly convey the most insight to the viewer. The techniques utilize information theory, fractal analysis, and time series data analysis to facilitate effective data summarization and analysis.
Bio:
Han-Wei Shen is an Associate Professor at The Ohio State University. He received his BS degree from Department of Computer Science and Information Engineering at National Taiwan University in 1988, the MS degree in computer science from the State University of New York at Stony Brook in 1992, and the PhD degree in computer science from the University of Utah in 1998. From 1996 to 1999, he was a research scientist at NASA Ames Research Center in Mountain View California. His primary research interests are scientific visualization and computer graphics. Professor Shen is a winner of National Science Foundation's CAREER award and US Department of Energy's Early Career Principal Investigator Award. He also won the Outstanding Teaching award twice in the Department of Computer Science and Engineering at the Ohio State University.
Bridging Computing and Visual Art
Speaker:
Kang Zhang, The University of Texas at Dallas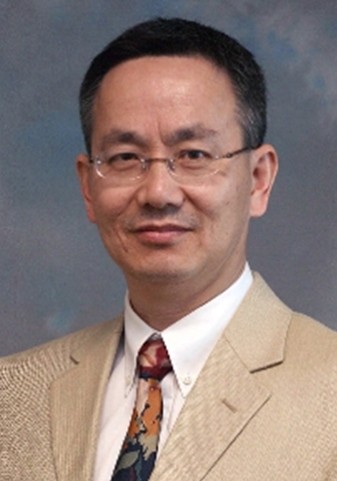 Abstract:
In this talk, we will introduce the recently emerging interdisciplinary research topics of computational aesthetics and aesthetic computing, and discuss their difference and complementary roles. As a case study, the theories and practices of abstract painting and their existing and potential applications in computing in general and information visualization in particular will be presented in the context of aesthetic computing. We discuss the three dimensions of painting, i.e. form, color, and texture, various visual cognition principles, and finally aesthetic compositions used in abstract painting. Our objective is to bridge visual art with information visualization, so that the latter could learn from the former in creating more aesthetic visualizations and thus making the viewers visualizing process a pleasant experience. In the context of computational aesthetics, we provide a classification scheme on the complexity of intelligence used in computerized paintings. We will mention our recent effort in producing a particular style of abstract painting. Other research project in information visualization at the UTD Visual Computing Lab will also be briefly mentioned.
Bio:
Kang Zhang is Professor and Director of Visual Computing Lab, Department of Computer Science at the University of Texas at Dallas. He is also an Adjunct Professor of the UT-Dallas Computer Engineering Program and GIS Program. He received his B.Eng. in Computer Engineering from University of Electronic Science and Technology of China in 1982, and Ph.D. from the University of Brighton, UK, in 1990. Prior to joining UT-Dallas, he held academic positions in the UK, Australia, and China. Dr. Zhang's current research interests include information visualization, visual languages, aesthetic computing, and software engineering; and has published over 180 papers in these areas. He has authored and edited five books. Dr Zhang is on the Editorial Boards of Journal of Visual Languages and Computing, International Journal of Software Engineering and Knowledge Engineering, and International Journal of Advanced Intelligence. His home page is at www.utdallas.edu/~kzhang.
Interactive Visual Text Analytics for Decision Making
Speaker:
Shixia Liu, Microsoft Research Asia
Businesses use text documents to communicate with their shareholders, share knowledge within the enterprise, coordinate activities among employees, and track business processes. As a result, analyzing text documents has become increasingly an important part of decision making in large corporations and small businesses. For this reason, it is attracting the attention of the visual analytics research community and will continue to do so in the future. Despite its promising start, this research topic is still in its infancy and much remains to be explored and done. This talk presents the challenges of visual text analytics and exemplifies them with several text visualization techniques and examples. It aims at investigating how to best combine and leverage state-of-the-art technologies from multiple fields to help people analyze large collections of text and make decisions.
Bio:
Dr. Shixia Liu is a lead researcher in the Internet Graphics Group at Microsoft Research Asia. Before she joined MSRA, She worked as a research staff member and research manager at IBM China Research Lab, where she managed the departments of Smart Visual Analytics and User Experience. Her research interests include interactive, visual text analytics and interactive, visual social network analysis. She is program co-chair of VINCI'2012. She was in the program committee of PacificVis, ACM Multimedia, SDM, and IUI, VINCI, IVAPP, and the guest editor of ACM Transactions on Intelligent Systems and Technology.