Android Application Development Hands-On Workshop 2013 Held by Dr. Muppala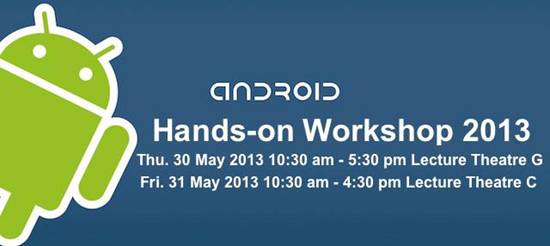 For the third year in a row Dr. Jogesh K. Muppala taught the Android Application Development Hands-On Workshop for HKUST students on 30 & 31 May 2013. The workshop was organized by Dr. Muppala for the benefit of all HKUST students.
Over 40 students enthusiastically attended the two-day workshop. Over the course of two days the students were introduced to various aspects of Android application development through the coverage of both Android concepts and hands-on exercises. They learnt different aspects of designing an Android application, through a series of structured hands-on exercises.
Students' reaction to the workshop was overwhelmingly positive, as evidenced by the following students' comments from the end-of-workshop survey:
Easy to implement the code in the class, at least having something to see in a short time. Very good for this because not giving a impression that is very difficult to write an Android app.
He helps us learn more about and familiar JAVA in a short time. And most importantly he makes us have fun and is happy to answer our questions even our questions are stupid.
Student can follow each step easily.
Very interesting, tried hard to keep students' attention. Very friendly, willing to help.
He is kindly and friendly.
He is patient and happy to explain our difficulties.
"Once again, I am truly humbled by the enthusiastic response of the students. This gives me encouragement to do more such activities in the future," said Dr. Muppala.