ACM (HK) Collegiate Programming Contest 2005
Continue Success for the Championship!
Our winning teams: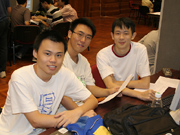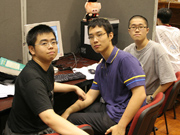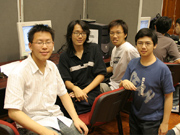 Founded in 1970, the ACM International Collegiate Programming Contest has been regarded as an innovative initiative to assist in the development of top students in the emerging field of computer science. It is a competition against the clock; a challenge for creativity, teamwork, and innovation.
The programming teams at HKUST have achieved continue success in the local competition of this renowned event. Following last year championship, we are pleased to announce that our team has won the championship for the second consecutive year.
We have sent a total of 3 teams to join the competition this year, they are,
Team 1: Champion
LEUNG, Tsz Kin (BEng in Computer Science, Year 3)
HUANG, Chi (BEng in Computer Science, Year 2)
WONG, Long Sing Sam (BEng in Computer Engineering, Year 2)
Team 2: 4th Place
LEE, Chun Yu James (BSc in Mathematic, Year 2)
CHAN, Chi Fung Michael (BEng in Computer Engineering, Year 1)
CHAN, Kam Hung (BEng in Computer Engineering, Year 1)
Team 3: 6th Place
LUI, Cheuk Pan Anthony (BEng in Computer Engineering, Year 2)
CHUNG, Ka Kei (BEng in Computer Science, Year 1)
MAK, Wai Ho Null (BEng in Computer Science, Year 1)
Dr. C. K. Tang, Associate Professor of the Department of Computer Science, is the coach of the programming team. "We're glad that our programming team has gained the momentum of repeated winning in the contest. But the more important thing is that through the contest our students learned not only programming but also working in teams, demonstrated their competency and fulfilled their wishes. Many credits should go to the PG coaches Cho and Ben.", Dr. Tang said.
There are about 20 teams from different local universities to join the local programming contest, and they had to solve 6 problems in 4 hours. The competition this year is considered to be keener than last year, as only 8 teams got the ranking. The 1st to the 3rd place solved 2 problems and the 4th to the 8th solved one problem only within the given time.
The ACM (Association for Computing Machinery) International Collegiate Programming Contest (ICPC) has been based at Baylor University since the 1980s, with IBM's sponsorship beginning 1997. Up to now, more than 10,000 participants of the contest are coming from over 1,300 universities from 68 countries on six continents. Within the limited time, participants are being challenged for their creativity, teamwork, and innovation in building new software programs.