CSE Alumni Dr. Huangxun CHEN and Dr. Li CHEN Won Best Paper Award from ACM SIGCOMM 2022
Dr. Huangxun CHEN and Dr. Li CHEN, PhD alumni of Department of Computer Science & Engineering with other researchers, won the prestigious Best Paper Award from ACM SIGCOMM 2022 for their work "Software-Defined Network Assimilation: Bridging the Last Mile Towards Centralized Network Configuration Management with NAssim." This event marks the first time that research institutions in Greater China area winning this award.
To "think like a layman" and "practice like an expert"
Dr. Huangxun CHEN wants to express her sincere appreciation to her doctoral supervisor, Prof. Qian ZHANG for her years of research training and mentoring to grow her as a qualified independent researcher, and also all the collaborators for this achievement. Revisiting her research journey of this paper, she realizes that it is crucial to integrate both "think like a layman" and "practice like an expert" strategies to enable research of great value.
"The former involves multiple rounds of discussion and clarification on the problem domain. The latter involves considerable efforts on state-of-the-art investigation, core research problem formulation, technical solution design, implementation and evaluation." says Dr. Chen.
She also mentions that this great recognition from SIGCOMM will constantly motivate her to conduct more solid work to benefit the community.
To inspire more researchers to work on the intersection between NLP and network OAM
"Looking back, network operations and management (OAM) has been my one of my primary research focuses since my Ph.D. with Prof. Kai CHEN." says Dr. Li CHEN. After graduation, Dr. Chen's experience working with Tencent and Huawei strengthened his belief that network OAM is still an unsolved problem in the industry, especially for "hyper-scalers" that runs fleets of millions of networked devices.
"A core challenge is managing multi-vendor devices, and our work, NAssim, is designed to help network operators to address this leveraging recent NLP models. Despite the importance and inherent hardness of the problem, the main difficulty for us, however, is to squeeze time from our day job to work on the paper. Fortunately, this year's SIGCOMM deadline coincides with the Chinese New Year holiday, so we have a relatively abundant time to refine the paper."
Dr. Chen would also like to thank Huangxun for cooperating with him on this issue. He also believes that by publishing this study, other scholars would be motivated to pursue research in the area of network OAM and NLP.
About the award-winning paper
The award-winning paper proposes to solve the fundamental challenge of efficiently inferring the accurate mapping between heterogeneous network configuration models to meet the long-term demands of introducing new device models of new vendors into the existing network infrastructure.
From the carrier network era to the cloud data center network era, large enterprises continuously procure and introduce new device models from new vendors into the network. To better support upper-layer network functions, it is essential to efficiently incorporate heterogeneous native configuration models into a unified configuration management framework. However, the existing NetOps practice requires significant human effort to bridge the mismatch between the heterogeneous device models and the expert-designed unified model in the software-defined controller. The NetOps teams should go through a tedious and error-prone process for each new device model: understand the manuals, find correct commands, draft and validate templates, and provide mapping rules to the unified device model.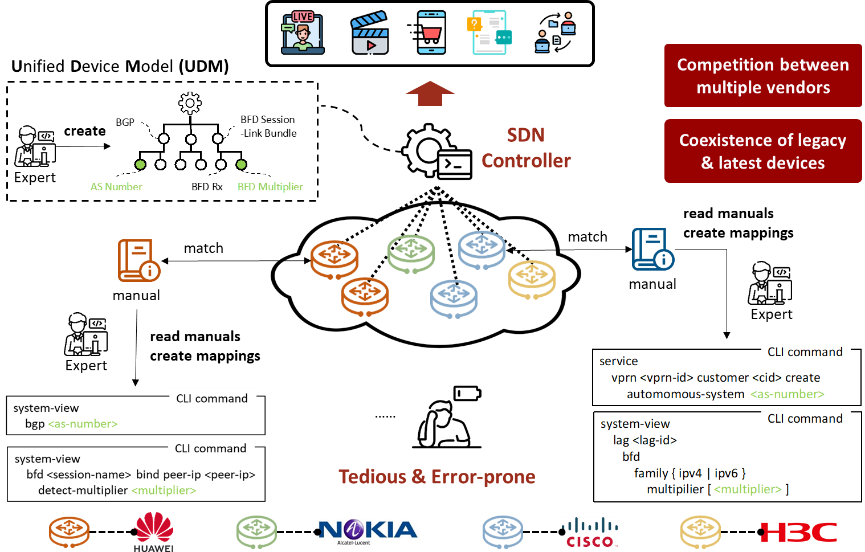 Inspired by the assimilation concept in biology, this paper proposes and defines Software-defined Network Assimilation, SNA in short for the first time. The authors design NAssim, an automated and efficient assistant framework to bridge the last mile towards centralized network configuration management. NAssim features a unified parser framework, a rigorous validator and a powerful semantic comprehension and mapping model adapted for network configuration domain NetBERT to successfully automate the process of "digesting, comprehending, and assimilating" new device models into an existing network and liberate the NetOps from most tedious tasks. This technique has been transferred to Huawei iMaster NCE's AOC platform to improve the efficiency of device configuration management significantly. For more technical details, please refer to the conference website and the paper.
About ACM SIGCOMM
ACM SIGCOMM is the flagship annual conference of the ACM Special Interest Group on Data Communication. ACM SIGCOMM 2022, the 36th edition of the conference series held in Amsterdam, the Netherlands on August 22-26, received 288 submissions and accepted 55 papers with around 19.57% acceptance ratio.
Congratulations again to Dr. Li CHEN, Dr. Huangxun CHEN and other co-authors.