CSE Programming Team Won 3rd Prize at IBM DB2 DB Contest 2013
The programming team from HKUST had great performance at the IBM Inter-University Programming Contest 2013 again this year. The team won the 3rd prize in the DB2 DB Contest held on 23 February 2013 at the Hong Kong Polytechnic University. The team comprised UG students CHENG Chun Kit Jacky, HON Kwun Wing, and LEE Kwong Ho Alton. It was led by Prof Raymond WONG, Prof Ke YI, and PG Coach Yin ZHU.
The contest aims to sharpen the contestants' programming skills through real-life computing practices.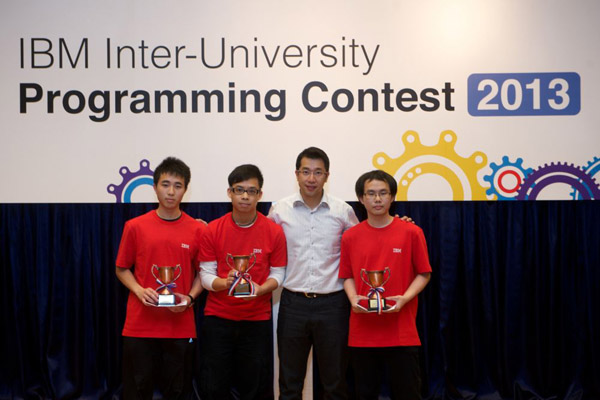 Alton, Jacky, Mr Gordon SIT (Leader, Software Group in IBM), and Kwun Wing at the award presentation ceremony
Navigation
Navigation