IBM Ph.D. Fellowship Program 2005/06
Ph.D. Candidate: Chang Xu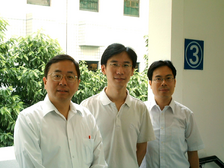 (From left to right) Prof. Lionel Ni, the Head of Department, Mr. Chang Xu and his thesis adviser, Dr. S. C. Cheung
Mr. Chang Xu, Ph.D. candidate of the Department of Computer Science, has been awarded IBM Ph.D. Fellowship Award for the 2005-06 Academic Year, which is an annual, worldwide competitive program.
The IBM Ph.D. Fellowship honors exceptional Ph.D. students in an array of focus areas of interest to IBM and fundamental to innovation, including business value (services and software to improve business performance), infrastructure value (hardware, software and services integrated into an open and computing environment) and exploratory computing technology.
Award recipients are selected based on their overall potential for research excellence, the degree to which their technical interests align with those of IBM, and their progress to-date, as evidenced by publications and endorsements from their faculty advisor and department head.
IBM Ph.D. Fellows are awarded tuition, fees, and a stipend of US$17,500 for one academic year. All IBM Ph.D. Fellows are matched with an IBM Mentor according to their technical interests, and they are encouraged to intern at an IBM research or development laboratory under their Mentor's guidance. An IBM ThinkPad is awarded during the internship. Internship assignments are designed to strengthen and broaden the Awardee's technical experience and contacts.