Information Technology Enrichment Project Course 2006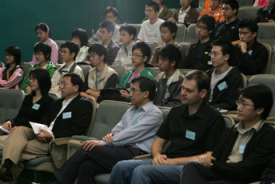 Opening Ceremony - 1 April 2006
The Hong Kong University of Science and Technology (HKUST) has launched the Information Technology Enrichment Project Course for Gifted Students again this year. HKUST is the first institution to provide computer science (CS) and information technology (IT) programs under the Education and Manpower Bureau's (EMB) Support Measures for the Exceptionally Gifted Students Scheme. This course serves to introduce the fun and challenge of CS and IT to exceptionally gifted secondary school students through working on a programming-oriented group project under guidance. Its dual objectives are to expose students to the scientific foundations of CS and to give them ample opportunities to gain hands-on experience in using IT in creative ways to solve problems encountered in daily life.
Prof Lionel Ni, of the Department of Computer Science
The program will benefit approximately 50 students talented in IT, science or mathematics who are currently studying within the Form 3 to Form 7 age-range. They can choose to work on different group projects, including smartphone application development, image processing to predict the impact of tsunamis, decryption of historical ciphers, and voice control for computer users. Under the supervision of a professor and a postgraduate tutor, each group of students will meet once a month and work together on their project in a fun and educational manner. On completion of the five-month course, a round-up summer camp will be held at HKUST during which the groups will give presentations on their achievements and exchange experiences.
"This course will nurture student interest and creativity to help them employ IT knowledge. It will assist the students to solve problems relevant to daily life and introduce them to some widely used IT applications. The course will demonstrate how much more IT has to do with daily life than they could believe possible!" said Prof Lionel Ni, Head of the Department of Computer Science.
To kick off the program, an opening ceremony, with honorable guests from EMB, will be held at HKUST on 1 April 2006.
Read More information about the project course.