The Best Paper Award: The Third International Conference on Quality of Service in Heterogeneous Wired/Wireless Networks (QShine 2006)
Dr Zhang Qian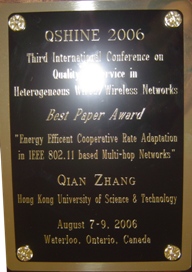 QShine 2006 Best Paper Award
Congratulations to Dr Zhang Qian upon receiving the Best Paper Award in the Third International Conference on Quality of Service in Heterogeneous Wired/Wireless Networks (QShine 2006). The awarded paper, "Energy Efficient Cooperative Rate Adaptation in IEEE 802.11-based Multi-hop Networks" is co-authored with Kun Wang, Fan Yang, Dapeng Oliver Wu, and Yinlong Xu.
QShine 2006 took place at the University of Waterloo in Canada on 7-9 August 2006. The conference was sponsored by Create-Net, ICST and IST-FET, while in-cooperation with ACM SIGMOBILE. It served as a forum for researchers from academia and industry to present the latest research results on QoS issues for both wired and wireless networks, with the hope to develop viable cross-layer design methodologies.
The conference also featured high-quality research papers, both in the main conference tracks, as well as in affiliated workshops and poster sessions. Research papers of particular merit in the conference were selected for consideration of fast track publication in a special issue for ACM/Springer Wireless Networks (WINET) and a special section in the IEEE Transactions on Vehicular Technology. The Best Paper Award was presented during the conference to the Best Paper of the conference, selected by the Technical Program Committee.
For more information on the conference, please visit QShine 2006 or the Technical Program.