Prof Qian ZHANG Won China's State Science and Technology Awards
Prof Qian ZHANG and researchers from the Tsinghua University were recognized with the most prestigious awards in science and technology in China- State Natural Science Award (Second Class) bestowed by the State Council of the People's Republic of China. Their research project is titled "Models for Joint Wireless Multimedia Communication and Performance Optimization".
Prof Zhang and her partners have conducted collaborative research over the past decades from 1998 to 2008. Starting from the fundamental nature of the wireless multimedia communication, the team revealed the interaction between the structured nature of multimedia information and the dynamic characteristics of the error distribution in wireless networks, established the modeling methodology and performance evaluation theory for multimedia processing and joint optimization in wireless network, made significant contributions to the development of the basic theory for wireless multimedia communication. The project broke through the challenge for efficient video communications under the discontinuous transmission conditions, and effectively increased bandwidth efficiency. The outcome resulting from the project is particularly for the design of future wireless video, mobile multimedia systems, as well as next-generation wireless networks.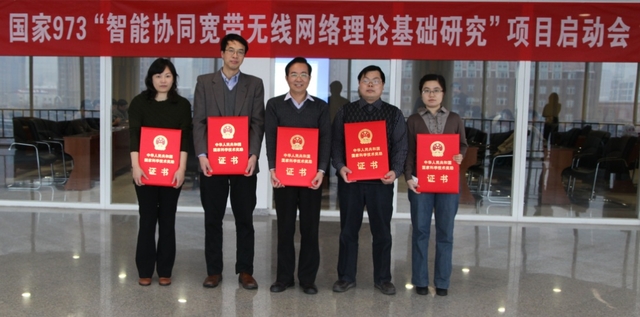 Prof Zhang with all her research partners