Solomon Systech Scholarships 2006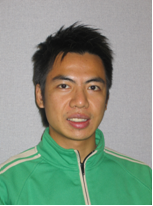 Cheng Sheung Chak James
Congratulations to the Solomon Systech Scholarships recipient, Cheng Sheung Chak James, a PhD candidate of the Department of Computer Science. He is offered the scholarships based on excellent academic performance, positive attitude and strong commitment in engineering field.
Solomon Systech offers a maximum of five scholarships of HK$20,000 each to Engineering students of local universities each year. For graduate students of comparable standards, preference will be given to research topics in the areas of integrated circuits, electronic systems, hardware & software, and electronic design automation. Selection interviews will also be conducted by donor.
"I am very pleased to receive this Scholarship. I believe that this Scholarship is not only a reward in terms of financial support, but it is also a tremendous encouragement to my fellow Engineering students. I would like to thank Prof. Wilfred Ng (my supervisor) and Prof. Derick Wood for their great support; I would not be able to get this award without their recommendation." James said.
7 Feb 2006