Starting from 2014-15 academic year, the CSE department sets up a new "Best FYP/FYT Video" award.
FYP/FYT students are invited to direct and produce a story-telling video about your FYP/FYT. It may tell your challenges and joys during FYP/FYT. It may record your hard coding work during midnight. It may show the proud demo of your final results, and much more.
The department will have a judging committee to vote for the award. No specific quota on the number of awards.
The winning team(s) will receive:
A cash prize of HKD1,000 per team.
A "Best FYP/FYT video" certificate for each member of the winning team.
The video will be the showcase of our department, and possibly be broadcasted on various occasions, i.e. department channel (department website, YouTube), undergraduate information day, and etc.
More on FYP/FYT video:
It's on voluntary basis, and will not be marked or contribute to your final FYP/FYT grade.
Online submission deadline (for 2021-2022): 2 June 2022 (Thursday), 11:59pm.

Suggested video length is within 5 minutes.
The narration (if any) should be in English. The subtitles (if any) can be in English or Bilingual (English and Chinese).
We're looking for videos that tell good stories with impact to future technologies. You fully decide the contents and format of the video. Don't constrain yourself to a video that simply record your FYP/FYT demo.
"Best FYP" and "Best FYP/FYT video" are not necessarily related.
You can either work on top of your poster video (make it less technical and storytelling) or create a whole new video for submission.
Criteria used to choose the Best FYP/FYT video:
Technical aspects of the project
Attractiveness and completeness of the story line
Good video quality and presentation of the project
Speech and narration - quality of English
Pleasantness and appropriateness of the background music
Synchronization of the audio, video, and text
Further inquires, please contact the FYP/FYT coordinator.
---
List of Best FYP/FYT Video Award / Best FYP Demo Award (only applicable to Year 2022-2023)
Year 2022-2023
The Best FYP/FYT Video Award has been cancelled in 2022-23 and replaced with the Best FYP Demo Award. The awardees of the 2 Best FYP Demo Awards are: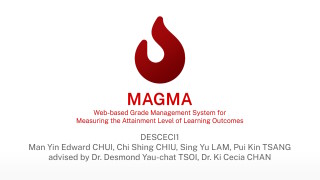 Project Code:
2022-2023 DESCECI1
MAGMA: Web-based Grade Management System for Measuring the Attainment Level of Learning Outcomes
Members: CHIU Chi Shing (CPEG), CHUI Man Yin Edward (COMP), LAM Sing Yu (COMP), TSANG Pui Kin (COMP)
Advisors: Desmond TSOI (desmond), Cecia CHAN (kccecia)
Category: Software Technology
Year 2021-2022
The 4 Best FYP/FYT Video Awardees are:
Year 2020-2021
The 6 Best FYP/FYT Video Awardees are:
Year 2019-2020
The 5 Best FYP/FYT Video Awardees are:
Year 2018-2019
The 5 Best FYP/FYT Video Awardees are:
Year 2017-2018
The 3 Best FYP/FYT Video Awardees are:
Year 2016-2017
The 5 Best FYP/FYT Video Awardees are:
Year 2015-2016
The 4 Best FYP/FYT Video Awardees are:
Year 2014-2015
The 3 Best FYP/FYT Video Awardees are: